Measured building surveys
A Measured Building Survey (MBS) is the accurate measurement of an existing structure.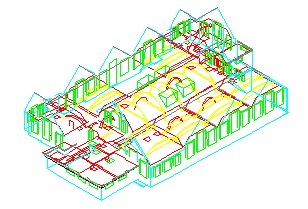 MBS are mainly (but not exclusively) carried out on the following schemes / project scenarios:
Domestic house extensions
Building change of use
Planning applications
Listed building consent
Building conservation
Area calculations (NIA / GIA)
With the observation and recording of both internal and external detail an accurate 3D Computer Aided Design (CAD) model can be produced.

From the accurate 3D CAD model 2D Plans, elevations and sections can be extracted.
The level of detail required is ultimately determined from the client and the use of the MBS this can range from the basic building outline to a full detailed MBS showing all internal and external features.
See our examples page and contact us for your individual requirements. (Home)